Canucks Martin, Francis together again
* They first shared the same dugout in Florida 16 years ago, were together at Florida Auto Exchange Stadium this spring in Dunedin and Sunday at the Rogers Centre one veteran Canuck -- LHP Jeff Francis (North Delta, BC) -- threw to another -- C Russell Martin (Montreal, Que.) becoming the Blue Jays' first-ever all-Canadian battery. ....
2015Canadian draft list …. Canadians in College …. Canadians in Minors2016 Canadian draft listLetters of Intent
Originally Published March 13
By Alexis Brudnicki
Canadian Baseball Network
DUNEDIN, Fla. – It almost seems as though it had been a long time coming.
In the fifth inning of Monday's matchup at Florida Auto Exchange Stadium, where the Toronto Blue Jays hosted the Houston Astros, the home team had an all-Canadian battery, with Jeff Francis taking the mound and throwing to Russell Martin in a game for the first time in his career.
The left-hander's eight-pitch, touch-and-feel bullpen session earlier that morning was their very first meeting as pitcher and catcher, just before the four-up, three-down, scoreless inning good for his second spring training outing.
"I've been throwing to different catchers all the time," Francis said. "I threw to Russ for the first time [Monday]. It was the first time in our lives. We realized I've never thrown a pitch to him. When I played with him on the junior team he was the third baseman."
Francis and Martin first met almost 16 years ago, when the Vancouver-born southpaw was 18 and Martin was 16 years old and joining Team Canada for his first time. Back then, Martin was manning the hot corner for the Canadian Junior National squad, before thoughts of squatting behind the dish entered the Montreal native's mind.
A few years later, both players were part of the best draft class the country north of the border has seen to date, in 2002. The 6-foot-5, 220-pound hurler was taken ninth overall by the Colorado Rockies out of the University of British Columbia, behind Adam Loewen, the highest Canadian-born player ever selected in the draft with the fourth pick.
Martin was taken by the Los Angeles Dodgers out of Chipola Junior College in the 17th round.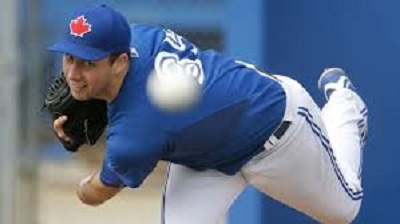 Francis made his major-league debut in 2004, and has since pitched for the Rockies, Kansas City Royals, Cincinnati Reds, Oakland Athletics and New York Yankees, racking up 10 years in the majors. Martin debuted two years later, and in his nine years of service time the three-time All-Star played in the big leagues with the Dodgers, New York Yankees and Pittsburgh Pirates. He faced the lefty 31 times out of the opposing dugout, hitting five singles, three doubles, walking six times and striking out in three at-bats, but had never caught him before Tuesday.
"It was cool," the 5-foot-10, 215-pound Martin said. "I've known Jeff for a long time. I've faced him quite a bit in the big leagues but I've never been in the same uniform. I've never really seen his pitches from that perspective behind the plate."
It's certainly not lost on Martin that he and Francis are two of the few players who remain in the game at the highest level from that Junior National Team roster so many years ago.
"We were definitely on some talented teams, but it's the longevity part of it," he said. "It's a lot of effort and some luck. You need to stay healthy and a lot of things need to go right in order for that to happen. I can't remember anybody else from those teams who is still playing.
"I don't think Jeff played with Adam Loewen because I was only with him in my first year. But Loewen was another guy and he's back to pitching now [in the minor leagues with the Philadelphia Phillies organization, after converting to the outfield for some time]. There might be one or two other guys."
A spot with the big-league club in Toronto this April is much less certain for non-roster invitee Francis than it is for Martin, who signed a five-year, $82-million US contract in November. But their first outing together was a solid one, and the catcher was impressed with what he saw from his Canadian teammate.
"It was just fun," Martin said. "In that short sample, one inning, I can't say I completely understand how he get guys out and what he likes to do, but we're going out there and competing …
"It's fun to watch him do what he does. He's just so deceptive. All his pitches kind of blend together and they all look the same coming out. That's what makes him a good pitcher. It's tough for the hitters to pick up the ball, and I got a better perspective of it being behind the plate catching."